Do you want to go back to the nostalgic days of your childhood? Go back in time and play your old favorite games with the Retro NESPi 4 console.
The NESPi 4 retro console is a Super Machine that lets you emulate thousands of games.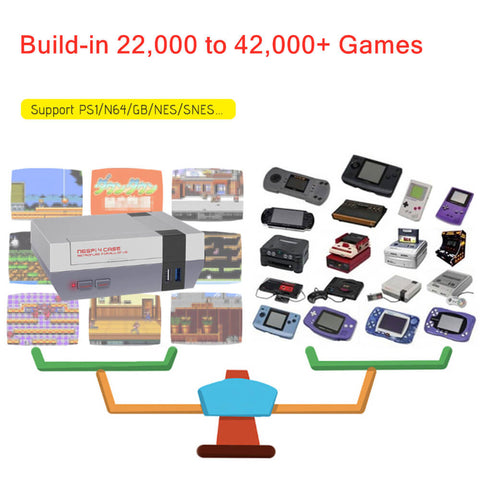 Go back in time and share your passion with your friends or your children. Everything has been thought of so that the immersion is total. The included controller adds a great detail for the purist that you are. Who will be the first to win a race in Mario Kart? Equipped with an SD 64 card or a 256G Card, the NESPi 4 Retro Console works with the newest Recalbox 7 software already installed.
Easy to use
Supplied with a 5V 3A power cable and a 150cm HDMI cable, the Retro NESPi 4 console is ready to use and the games are already installed. Press the power button and enjoy your favorite tracks.
Principle of the Retro console
Based on the Raspberry Pi4B computer, the Retro consoles are emulation consoles that allow you to play thousands of titles on a modern screen.
A console to bring them all together
From the Atari to the Vectrex via the Megadrive and the MasterSystem, find most of the consoles of your youth combined in one box. Whether you're a fan of the '80s or' 90s, the hard part will be deciding which one to start with.
Local and Multiplayer
The NESPI 4 with 4 USB ports.

Play as you see fit. Relive the magical evenings and enjoy your games for up to four players locally.