Retroflag Retro Video Game Console
This Retroflag gaming system lets you relive your childhood memories with your family. Play your favorite classics like Mario, Crash Bandicoot, Sonic, Street Fighter and so many others with up to 4 players.

It is powered by the powerful raspberry pi 3B which is equipped with a 1.2GHz Broadcom quad-core processor and 1GB RAM. So you can play the games smoothly, just like you used to play them.

We have assembled this retro game console for you and pre-install the Recalbox gaming system to the SD card. So when you receive it, just download the favorite games and copy them to the SD card, plug-in and play.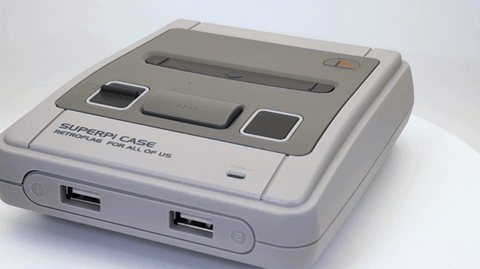 This is a retro video game console that can take you back in time and rediscover all the games you previously liked!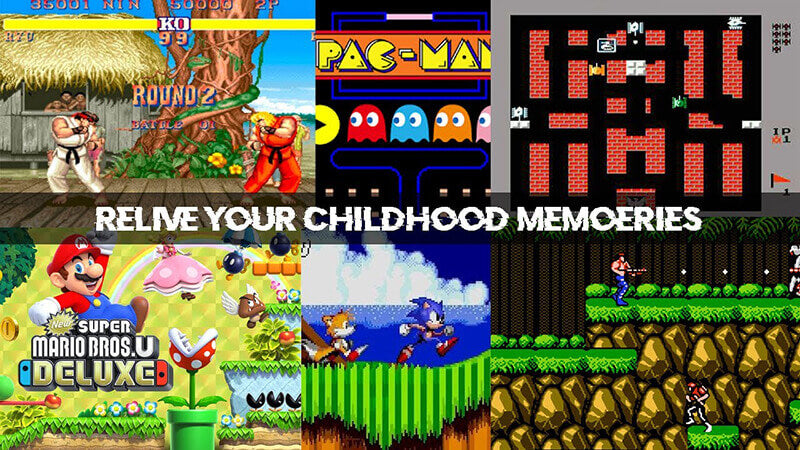 This best retro game console has 42 emulators, which is equivalent to 42 retro consoles. Travel through time and space with Super Pi and share your nostalgia with family and friends.
Support HDMI output (Max 1080P)
It is compatible with different sizes of TV, PC. you can use it directly, no need to reset anything.
Easily connect to USB,2.4G Wireless, PS3, PS4 controllers ... to play
This game console supports up to 4 people playing at the same time. Not only can you experience happiness yourself, but you can also share this happiness with your family, friends or colleagues.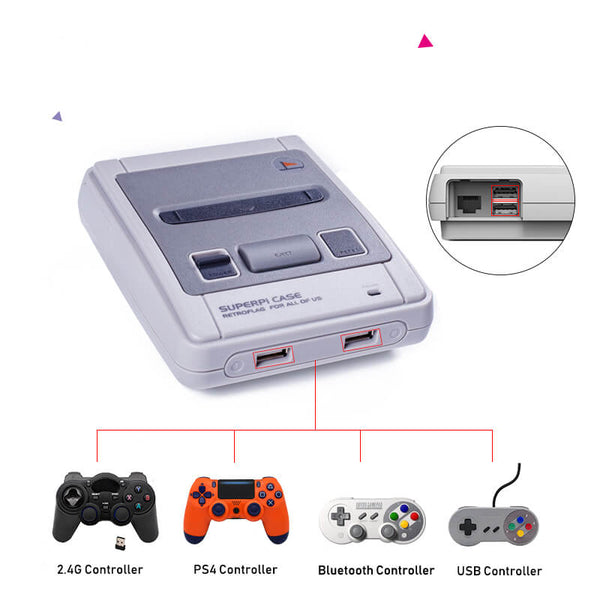 Is the console ready for use and what gaming systems does it support?
Yes. However, we recommend that you read the user manual carefully before first use. Then all you need to do is connect the cables and turn on the console. The retro game console uses the Recalbox gaming station which supports 80+ gaming systems and 40K+ games. More detail, please click here.
What language is the controller interface?
The controller supports 
ten languages, such as English, French, Spanish, Japanese, Korean, 
etc.
 Most games are in English.
Can we play 4 players?
Yes. All consoles have 4 USB ports and support up to 4 players at the same time.
I wish to see the complete list of 10000+ games.
Click here to see the new list of games.
Can I add games?
Yes! You can add and play your own games! The procedure is explained in our user manual.
Does the console allow backups?
Save your games at any time by pressing HOTKEY + Y. 
Resume your game by pressing HOTKEY + X.
Can my child play with the console?
The console, the interface, and the joysticks are perfect for children. It is enough to know some shortcuts to facilitate the use. 
Watch out for some violent games that are not suitable for children.
Are my old controllers compatible?
All your PS3, PS4, XBOX, 8BITDO, Bluetooth and fillers are compatible with our gaming console. They just need to be configured (see user manual). 
Its power is basically sufficient for 99% of games.Download the user manual
Our user manual covers most of the options and configurations to do. It is important to read it carefully before the first start. It allows easy use and avoids making mistakes ...
You can download it by clicking here.